UG & PG PROGRAMS & REQUIREMENTS
Irish higher education institutions offer degrees at ordinary and Honours Bachelor's, Master's and Doctorate levels and undergraduate and postgraduate diplomas over a full range of disciplines. Use the course search below to find the course or higher education institution best suited to you.
Undergraduate Conditions- Non EU Applicants
Academic Entry Requirements
Entry requirements for courses may vary from year to year, depending on the number of places available and the number of applicants, so there is a great deal of competition for the more popular programmes. Irish students compete for entry based on results achieved in the Irish Leaving Certificate Examination. Students are graded on their six best subject scores.
The International Bacculaureate (IB) Diploma is also accepted as meeting the minimum entry requirement for higher education programmes, provided due notice is taken of the various grades and combinations of subjects indicated in the current published entry requirements. Specific programme and faculty requirements must be met at all institutions. All applications are assessed individually and the Diploma does not guarantee admission. Individual institutions may stipulate requirements additional to the minimum required.
English Language Requirement
A good grasp of the English language is essential for students whose first language is not English. You need to be able to understand, converse and write English well as it is the language of instruction at all Irish institutions of higher education.
Students must show a proficiency in English to be accepted for a degree programme. Good news – many universities and colleges provide English language training courses for students hoping to study with them. There are also over 100 private English language training schools nationwide which run short and long-term courses.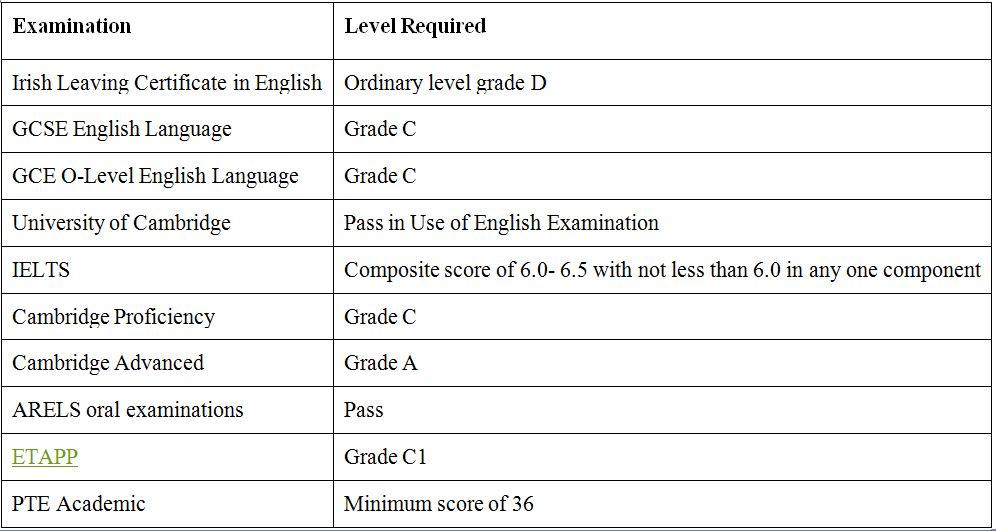 The list below indicates the minimum standards in English which should be met. All English language certificates must have been issued within 2 years of the expected commencement date of your course. In certain circumstances, results in examinations other than those outlined below may be accepted as proof of ability.
Medicine
If you are interested in applying to study medicine in Ireland, please note that you will have to do the HPAT assessment test which was introduced for EU students applying for undergraduate medicine in the medical schools in Ireland. The score achieved in the HPAT-Ireland examination will be added to the Leaving Certificate points to create a total points score. Students will be eligible to compete for undergraduate medicine places provided they achieve a minimum of 480* points AND meet the matriculation requirements of the Medical School
*subject to change year on year.
For all non-EU applicants please contact the International Office in the college you are interested in applying to.
Postgraduate Conditions- Non EU Applicants
Academic Entry Requirements
Applying to study in Ireland could not be easier for postgraduate students – wherever you are from. Whether you are an EU or a non-EU postgraduate student, all you have to do is apply directly to the international office in your preferred higher education institute.
However, some higher education institutes will ask you to apply through the Post Graduate Application Centre. This sounds more difficult than it actually is and their website has clear guidance on just what to do.
English Language Requirements
If you have difficulty reading this, then maybe you should rethink your choice of course.
All postgraduate courses are given in English and students applying for degree courses must be able to speak, read and write the language fluently in order to take part in tutorials, seminar discussions and examinations.
If your native language is not English or your undergraduate education was not in English, then you will have to pass an approved test before registering for any course.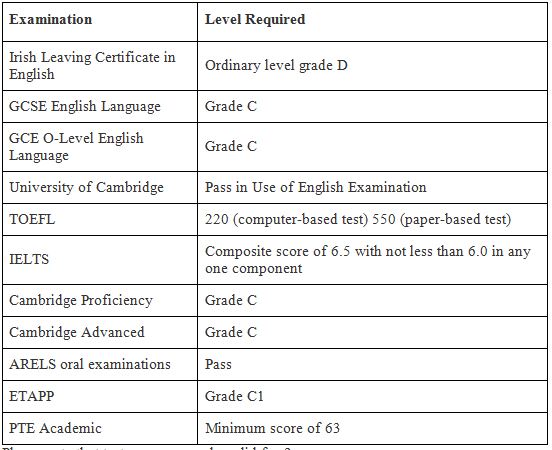 Please note that test scores are only valid for 2 years.
Medicine: GAMSAT
If you are interested in applying for graduate entry medicine, you will need to do the GAMSAT examination. GAMSAT is a specific test developed by the Australian Council for Educational Research (ACER) for medical schools offering graduate-entry programmes. GAMSAT is required by all EU graduates applying for the 4 Year Graduate Entry Medicine Program (GEP).