Education in New Zealand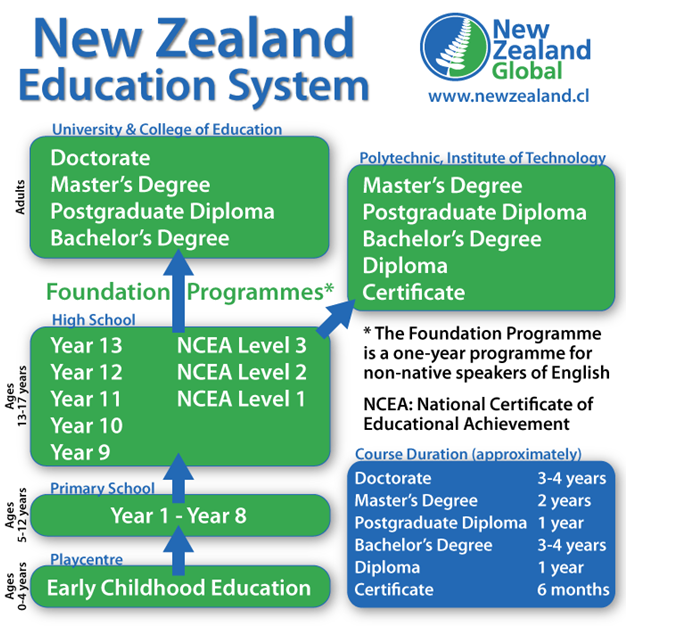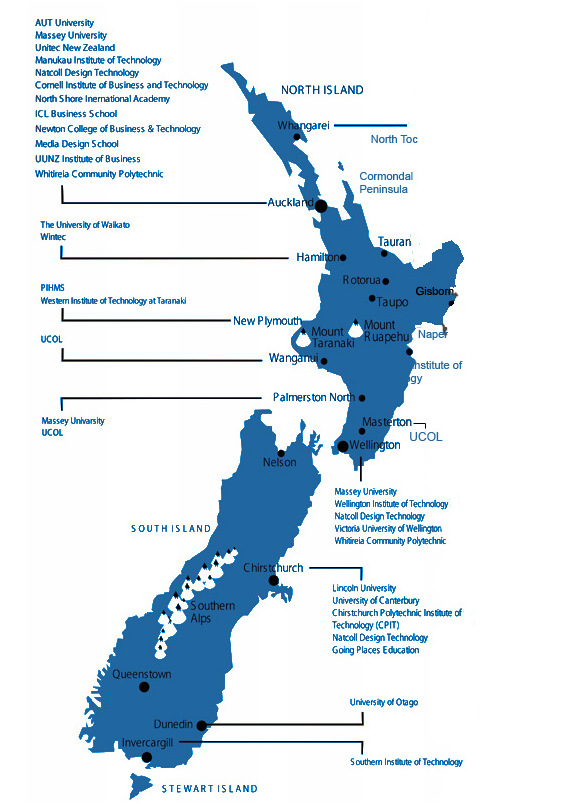 new-zealand map with universities and colleges
New Zealand's progressive education is branded internationally for its quality. Many international students travel to New Zealand to further their studies. So let us dig in and find out how their education is like!
In New Zealand, it is compulsory for children aged 6 to enroll into a school. Before that, children usually attend play centre or a kindergarten starting from the age of 3. At age of 9, they will be enrolled into a secondary school where they will be studying in till they reach the age of 13. They have over 400 secondary schools which students can choose from. The schools are either located in the city area or in the rural area. There is also a wide range of subjects which students can choose from. The school term is split into four terms and school starts in early February and finished in mid December.
To graduate from secondary school, students have to complete the final year of school which is when they are 13 years old. International student also have to accomplish the final year of secondary school before they can move on to the tertiary level.
After graduation from secondary school, one has five choices. They can choose to go into a University, Polytechnics and Institutes of Technology, Teacher Training, Private Tertiary and Training Establishments or English Language Training.
University
There are eight government funded universities in New Zealand and they offer undergraduate and postgraduate degree programmes. Some even offer foundation programmes. Although all universities offer a wide range of subjects, they have courses that each university specialise in.
Polytechnics
It is a popular choice among New Zealanders as it provides academic or vocational programmes and 2 different routes, namely the short course which teaches a certain skill or a longer complete programme which will result in a degree or diploma certificate upon graduation. Currently there are 25 government funded polytechnics in the country.
Teacher Training
Like Singapore's National Institute of Education (NIE), the teacher training programme trains students to become teachers of different levels. This is a reason why the education in New Zealand is considered a quality one.
Private Tertiary and Training Establishments
Like the private universities in Singapore, these establishments provide the same programmes as a normal university, just that they are not governmentally funded.
English Language Training
This is like private English school which have English programmes along with and an activity so as to balance work and play.
This is the path international students take when they study in New Zealand
This is followed by Tertiary education which is skill based.
Early Childhood Education (ECE) in New Zealand is not compulsory, but care and facilities are available for children aged between 0 to 5 years. These care and facilities include kindergartens, playcentres, crèches, kohanga reo, home-based services, and childcare centres. Licensed care and facilities are funded by the government.
Primary school education is compulsory in New Zealand. All children must be enrolled at school from age of 5 only. Secondary school education is also compulsory, with children from 9 to 13 eligible for admission. The child must be 16 years by the time of completion of school education.
Secondary schools generally accommodate students from year 9 to year 13 and offer three levels of the National Certificate of Educational Achievement (NCEA) qualification.
After the completion of the school education, the student is ready to join tertiary education that includes industry training, adult and community education, foundation studies and study at tertiary institutions like universities, polytechnics, wananga and private training establishments.
In addition to the regular stream mentioned above, there is also the native stream of education called Maori education which is leveled as Kohanga reo (early childhood Maori language nests) and kura kaupapa Maori (primary to secondary level Maori immersion schools) that teach the curriculum in te reo Maori.
Even the Maori education offer tertiary education facilities through the established, thirty-seven tertiary education institutes, that include three wananga (tertiary institutions) that provide polytechnic and university type program with an emphasis on the Maori language, customs, and culture.
In general, New Zealand's education is focused on skill-development. Education in New Zealand is increasingly of international character, driven and motivated by trends which include
• The ICT revolution
• Employment markets transcending national borders
• Geographically mobile population of students
• Teaching staff and researchers
In this fast-changing environment, policy makers, teachers, students and employers in all countries need access to relevant and up-to-date information about each other's education and qualification systems.
New Zealand education
New Zealand education has seen a lot of changes, starting with the centralized structure and moving towards the establishment of individual schools and tertiary institutions by private individuals. Though they are responsible for their own governance and management, definite framework of guidelines, requirements and funding arrangements are provided by the central government and administered through other state organizations.